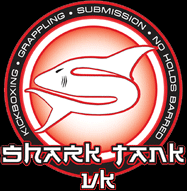 No Holds Barred
Eddy Millis is the head of The Shark Tank and is considered one of the most well-rounded instructors in NHB and has been a pioneer of the Mixed Martial arts.

The Shark Tank has had fighters in:
UFC (Ultimate Fighting Championship, Superbrawl, FutureBrawl, Extreme Challange, Pancrase, Shooto, K1 Japan, King of the Cage, Neutral Grounds, Universal Above Ground Fighting and Ring Japan.
The fighting skills are a blend of arts from boxing, Kickboxing, Muay Thai, Wing chun to Greco-Roman and Freestyle wrestling, Shooto, Brazilian Jiu-jitsu and Submission grappling.
Alan Orr Sifu is the UK representative for the Shark Tank.